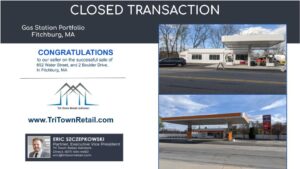 Fitchburg, MA  (October 4, 2021):  Tri Town Retail Advisors today announced the sale of two gas station properties, 652 Water Street, and 2 Boulder Drive, in Fitchburg, MA.  TTRA Represented the seller and procured the buyer, a local operator who purchased the two stations to add to their portfolio. 
"We have a deep network of qualified buyers seeking to purchase gas stations and convenience store locations, so this offering produced multiple bids for our Seller and ultimately went with a local portfolio buyer with existing stations in the immediate area," states Eric Szczepkowski, Partner/Executive Vice President of Tri-Town Retail Advisors.  "We went from contract to close in 90 days, and couldn't be more pleased with the overall seamless process"
Both located in downtown Fitchburg within 1 mile from each other, 652 Water Street and 2 Boulder Drive have a long history of gas operation at their respective sites.  They were previously owned and operated by the same family for multiple generations.
For more information, contact Tri- own Retail Advisors at (617) 454-4460 or eric@tritownretail.com.
# # #
Tri Town Retail Advisors is a boutique retail real estate brokerage and advisory firm specializing in landlord/tenant representation and investment management services. The firm works with some of the most recognizable national brand names in retail as well as smaller regional and local companies.  Clients enjoy Tri Town's market knowledge to identify appropriate markets for creative concepts and optimal locations, and to negotiate favorable transaction terms. Phone:  (617) 454-4460; web:https://tritowncommercial.com.