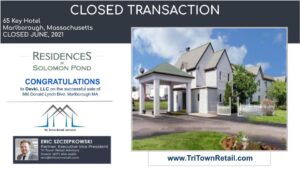 Marlborough, MA  (June 9, 2021):  Tri Town Retail Advisors, a Massachusetts-based commercial real estate brokerage and advisory firm,  today announced the sale of a 65 key hotel property located at 880 Donald Lynch Blvd, Marlborough MA.which is located immediately off of Exit 30 on Route 290.   
Originally built in 1987, this hospitality property most recently operated as a quality in Quality Inn branded hotel. The new ownership, Diversified Funding Inc, has repositioned the hotel to an extended stay concept and re-branded as the Residence at Solomon Pond. The updated hotel boasts brand-new fully furnished remodeled suits with kitchens in every unit.  Additionally, the property features a new lobby, business center, and fitness center equipped with Peloton fitness equipment. Additional information on the hotel can be found on their website /www.residencesatsolomonpond.com.
"We have a deep network of qualified buyers seeking to purchase hotel, auto service, and retail investment properties, so even as an off market offering, we had several CA's signed and produced multiple offers, ultimately going with who ownership felt was the best buyer," states Eric Szczepkowski, Partner/Executive Vice President of Tri Town Retail Advisors.  "The team at Diversified Funding worked in a fast, professional manner,  seamlessly navigating the process with both the seller and the Town of Marlborough."
The Residences at Solomon Pond is in an area that helps guests feel at home while being an easy commute to Boston from Marlborough, MA. Grocery and retail shopping, dining, pharmacies, entertainment, and other destinations are all within your reach. We are located 40 miles from Boston, and 12 miles from Worcester and neighbor major hospitals like UMass Memorial Medical Center.
For more information, contact Tri Town Retail Advisors at (617) 454-4460 or eric@tritownretail.com.
# # #
Tri Town Retail Advisors is a boutique retail real estate brokerage and advisory firm specializing in landlord/tenant representation and investment management services. The firm works with some of the most recognizable national brand names in retail as well as smaller regional and local companies.  Clients enjoy Tri Town's market knowledge to identify appropriate markets for creative concepts and optimal locations, and to negotiate favorable transaction terms. Phone:  (617) 454-4460; web:https://tritowncommercial.com.