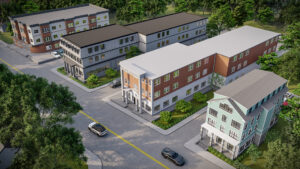 Bridgewater, Mass. (September 21, 2021):  Tri Town Retail Advisors has been exclusively retained to market the availability of 60-86 Broad Street, in Bridgewater MA. The Sponsor recently received approvals from the Town of Bridgewater, for the construction of four buildings along Broad Street consisting 62 residential units and approximately 26,000 square feet of commercial space comprised of 4 adjacent buildings which will enhance the streetscape of the downtown. The entirety of the project consists of an assemblage of 5 parcels and nearly 10 years of planning.
"Downtown Bridgewater has been going through some pretty significant improvements over the past few years, and this is directly in the middle of it"  states Eric Szczepkowski, partner/executive vice president of Tri Town Retail Advisors.  "With this project being only a short walk to both Bridgewater State University and the MBTA rail into South Station, it affords a developer the opportunity to attract various tenants, both residential and commercial, that want to be a part of the vibrant downtown area"
Bridgewater is a charming, residential, suburban community. Located approximately 25 miles south of Boston, the town is accessible by bus, commuter rail and highway at the junction of routes 24 and 495. Originally an industrial and agricultural center, the town of Bridgewater was chartered in 1656. Its historic character and unique landscaping are prominent throughout the community, particularly in the downtown central common area. Today, Bridgewater is a growing community of approximately 27,000 and serves as home to Bridgewater State University. Founded in 1840, as one of the first normal schools in America, BSU is a premier public university of the Commonwealth of Massachusetts.
Potential buyers of the property can contact Tri Town Retail Advisors at (617) 454-4460 or eric@tritownretail.com.
# # #
Tri Town Retail Advisors is a boutique retail real estate brokerage and advisory firm specializing in landlord/tenant representation and investment management services. The firm works with some of the most recognizable national brand names in retail as well as smaller regional and local companies.  Clients enjoy Tri Town's market knowledge to identify appropriate markets for creative concepts and optimal locations, and to negotiate favorable transaction terms. Phone:  (617) 454-4460; web:https://tritowncommercial.com.