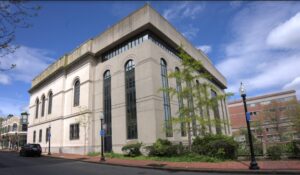 NEW BEDFORD, Mass. (May 18, 2021):  Tri Town Retail Advisors, Massachusetts-based commercial real estate brokerage and advisory firm specializing in landlord representation, tenant representation, and investment management services, announces it is now handling the sale of an approximately 52,000 s/f building in the heart of downtown New Bedford, Mass.
The building is located at 174 Union Street in New Bedford, at the corner of Union and Purchase Street.  Originally built in 1897 for the New Bedford Institute for Savings, the building more recently had been renovated and added onto creating 4 floors of Class A office space with sweeping views of Downtown New Bedford and it's waterfront.  The polished granite exterior features neo-classic columns, carved ornamentation, and decorative pilasters. The bank interior has an open floor plan, 30' high ceilings, tall arched windows, and an arched mezzanine level that overlooks the lobby. The main building features two ADA compliant elevators servicing all four floors of the meticulously built-out office suites that are turn-key and ready for occupancy.  The offering comes with a parking lot in addition to five nearby lots available as part of the sale.
"We're seeking a buyer that can appreciate the exquisite architecture and historic charm that this building offers. Because New Bedford is an opportunity zone, there's a great case for a possible redevelopment to medical space or even housing – both of which New Bedford is primed for" states Eric Szczepkowski, partner/executive vice president of Tri Town Retail Advisors.  "The potential is limitless, restricted only by one's imagination for repurposing the space.  We are excited to work with entrepreneurs, hospitality groups, business owners, retail operations personnel, and anyone interested in exploring this amazing property  we are offering."
The Whaling City, as New Bedford is known, has a unique downtown with authentic historic charm, cobblestone streets, and vibrant arts, dining and music scene.  Mr. Szczepkoswski further describes the building's location as being one block away from City Hall, the public library, and public transportation, noting that the MBTA plans to complete two passenger rail service platforms in the City within three years.  The property provides excellent visibility and convenient access from both U.S. Interstate Route 195 in Rhode Island and Massachusetts Route 140, and is within walking distance to a nearby parking garage. 
Potential tenants and/or buyers of the property can contact Tri Town Retail Advisors at (617) 454-4460 or eric@tritownretail.com.
# # #
Tri Town Retail Advisors is a boutique retail real estate brokerage and advisory firm specializing in landlord/tenant representation and investment management services. The firm works with some of the most recognizable national brand names in retail as well as smaller regional and local companies.  Clients enjoy Tri Town's market knowledge to identify appropriate markets for creative concepts and optimal locations, and to negotiate favorable transaction terms. Phone:  (617) 454-4460; web:https://tritowncommercial.com.